Do you have tired muscles, problems with your back or do you just want to relax?
Miracle Massages offers the solution!
Regular massage gives you more vitality and better health.
A massage is also a treat to yourself; a moment of peace and awareness.
prevent work stress!! chair massage on location
Now that a lot of people are working at both the office and at home, stress and other complaints are increasing. Common complaints are in the back, neck and between the shoulder blades.
Miracle Massages offers professional chair massages that target the back, neck, shoulders, arms and hands.
Benefits:
Works preventively against stress complaints and prevents absenteeism
Has a vitalizing, relaxing and pain-relieving effect
It increases concentration
Satisfied employees, they get a feeling of appreciation
No change of clothes required (no use of oil)
On location, the masseur takes his own massage chair and sets it up in the designated space
Duration: 15 to 20 min (in consultation)
Curious about what Miracle Massages can do for your organization, please contact us at info@miraclemassages.com or call 06-10931183.
In addition to relaxation massages, Miracle Massages also offers therapeutic massages, which can be a combination of:
Massage
Connective tissue massage
Deep tissue massage
Triggerpoint therapy
Cupping
Mobilizations
Manipulations
Miracle Massages believes in the body's self-healing ability; massage therapy has proven to be very effective in this regard.
Click here to book your massage.
Miracle Massages specializes in massages and Brazilian wax and is located in Leidsche Rijn (Utrecht).
Appointment only.
In October 2020 I started a Massage Therapy course at Myos Opleidingen in Utrecht. I also regularly follow courses (including cupping and Thai coconut compress massage) to improve my techniques and learn new grips to make your experience even more pleasant.
Miracle Massages only works with high-quality oils and wax products.
10 benefits of a regular massage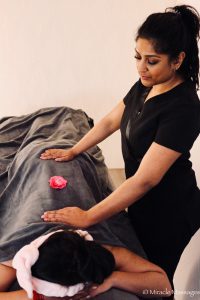 My name is Sharina and since 2017 I'm a small business owner. I succesfully completed the Traditional massage course at Myos Opleidingen where I became a licensed masseur. In addition to massaging, I work full-time at a financial institution as a Business Analyst; which is the reason that I'm only open a few hours a day.
Why massages? In my younger years I was always told that I had "healing hands," massaging family and friends in my spare time. I know how stressful and hectic daily life can be and how important it is to grab this moment for yourself. It makes me happy when my clients go home with a restful and satisfied feeling, which is why I would like to invite you to experience a relaxing massage on my massage table.
Love,
Sharina